This summer we were able to go on some really fun hikes! I've already wrote about our hiking with Brittany in Teton Canyon and climbing Table rock with my dad. But I'll include some of those pictures anyways!
#1 - Our first hike of the summer on the Huckleberry Trail with Burley. We kept him on a leash and it was a good thing too! The trail maintainer/ranger guy came down the trail with a backpack on and an ax in his hand. Burley went crazy barking and growling!! I think he was ready to protect us from the 'big animal' coming towards us.
#2- Teton Canyon hiking with my sister Brittany. We enjoyed the beautiful scenery! There were waterfalls everywhere and everything was so green. We had a picnic by the river and enjoyed the great weather.
#3- Table Rock with my dad. It was an awesome hike!! The weather was perfect and there was hardly any wind on the top of table rock. It's a hike we have to do every year.
#4- Pack Saddle Lake hike. Doug was getting ready for school to start and just had to have another day outdoors befor that happened. So we planned a picnic, grabbed our coats and drove out towards Driggs. I had never been to Pack Saddle Lake before and so I was excited. We decided to let Burley off of the leash to see how he would do. He was awesome!! He never tried going off the trail and would run ahead then turn and wait for us.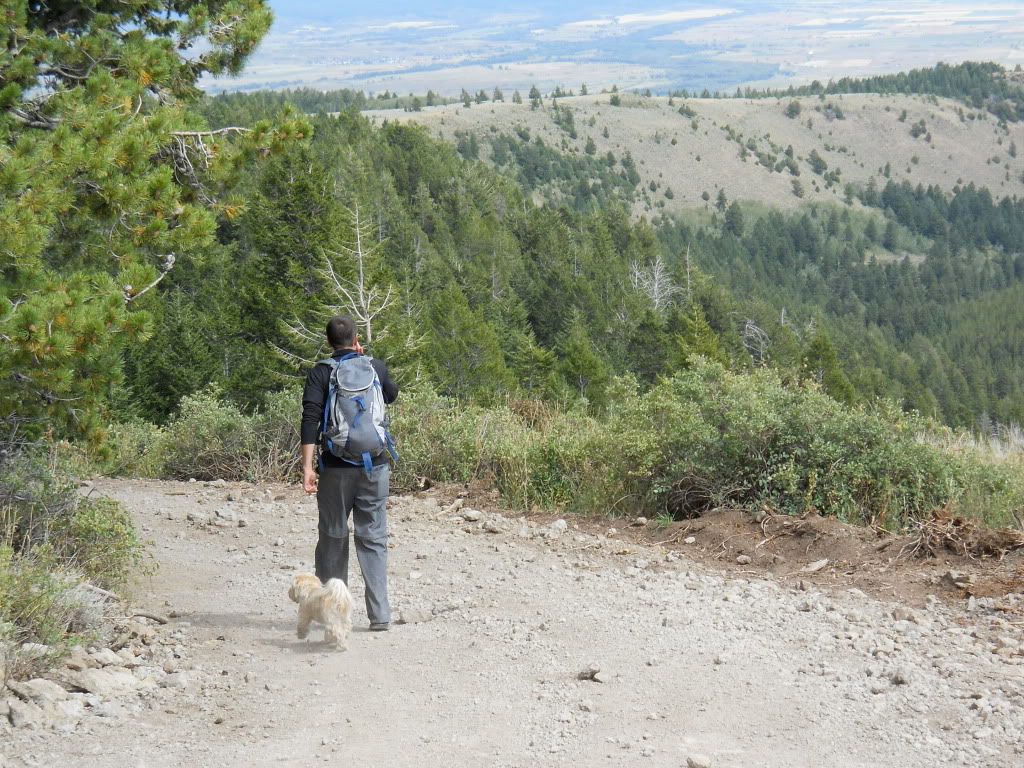 This is what we found when we got there! It was just beautiful!!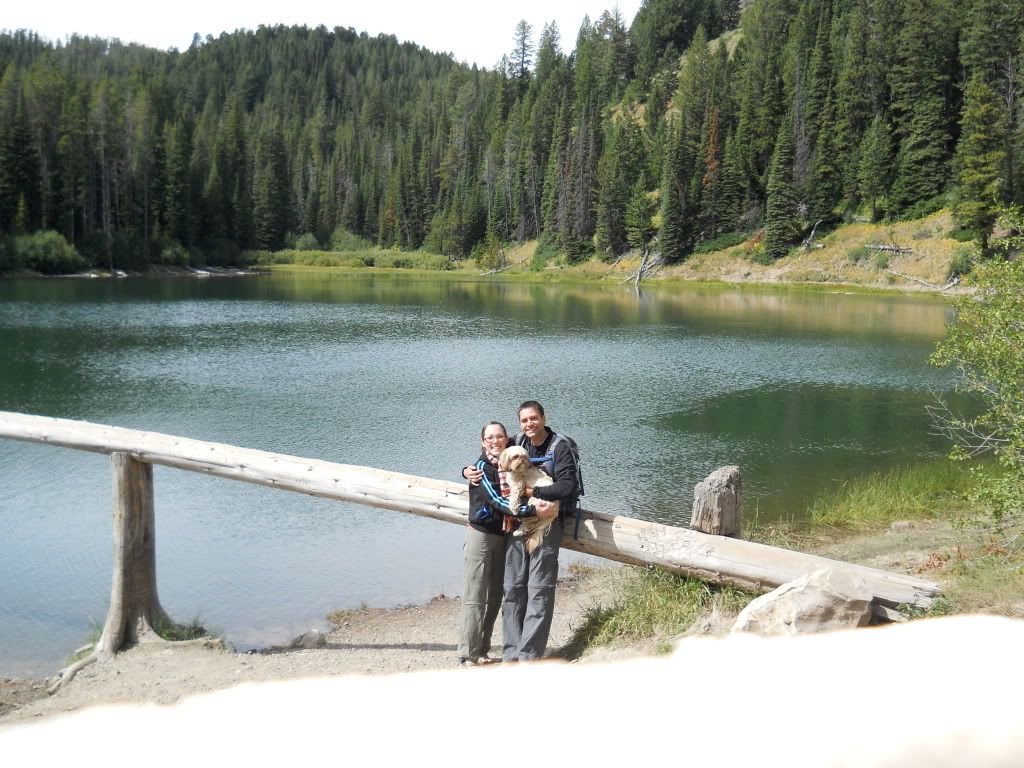 There was a rope swing hooked up too! Of course we had to swing on it and I'm sure if it had been 20 degrees warmer we would have just let go and jumped in the water. It was an unusually cold day even though it was sunny and beautiful.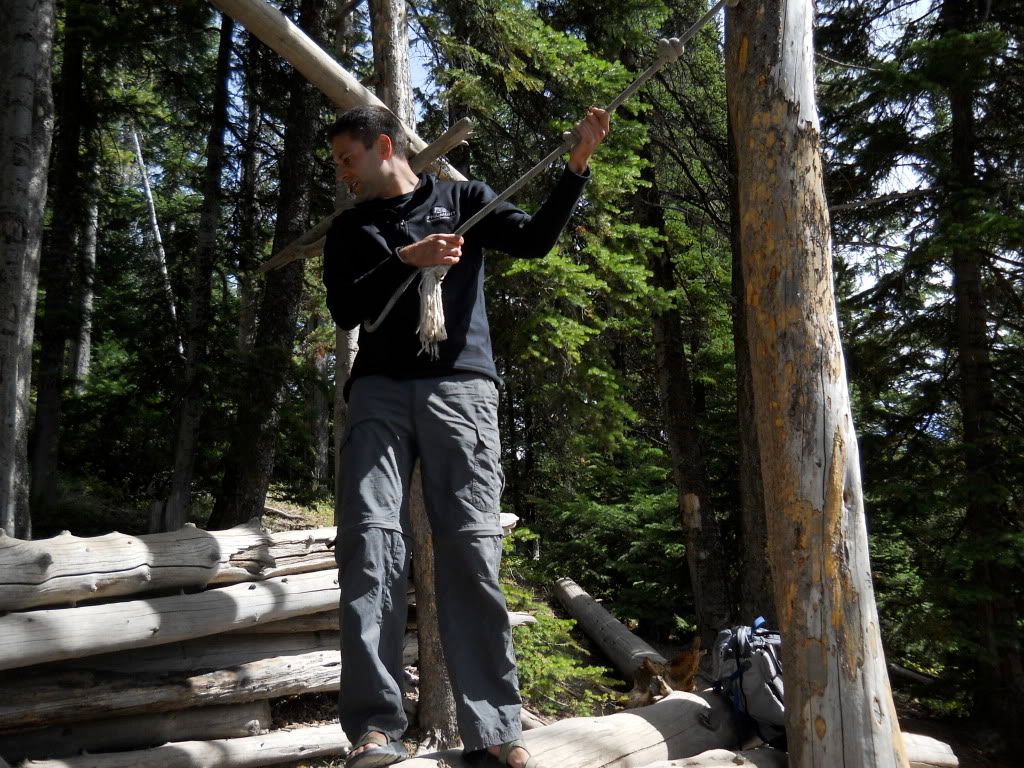 #5 - Hiking around Cave Falls and to the Bechler River. The Saturday after my birthday we went out to see the collapsed cave at Cave Falls. Again we packed a lunch and brought Burley along. We were very glad that Burley never jumped in the river.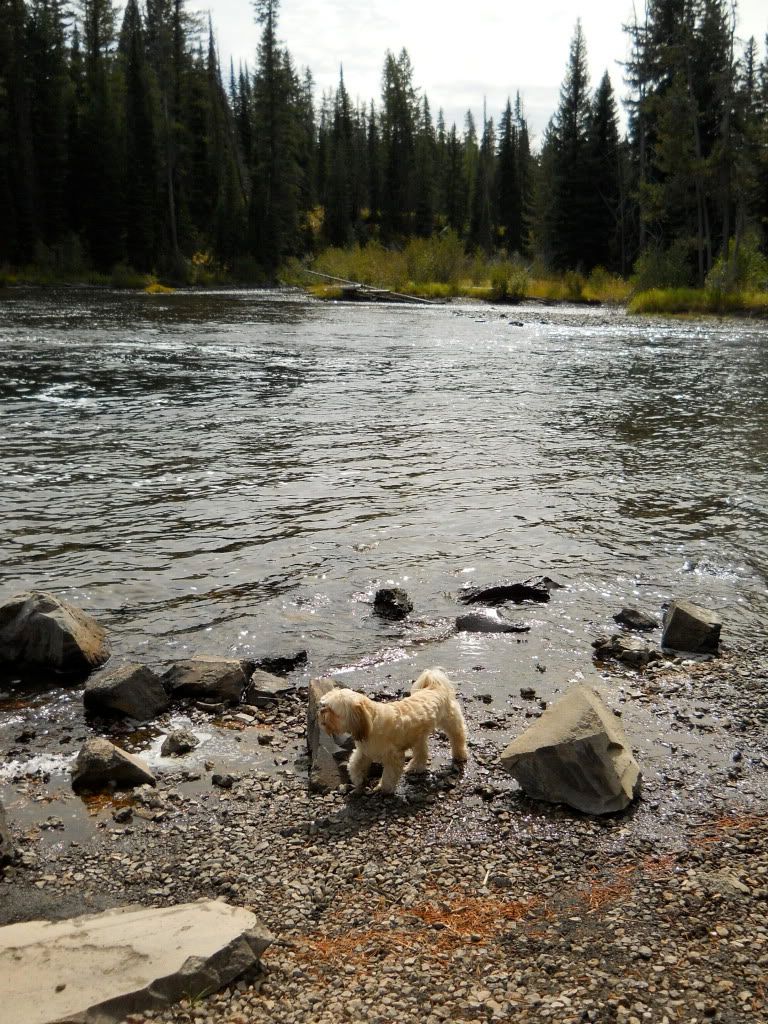 The Falls were beautiful but the fall time colors were even more amazing!! Everything was yellow, orange, and red!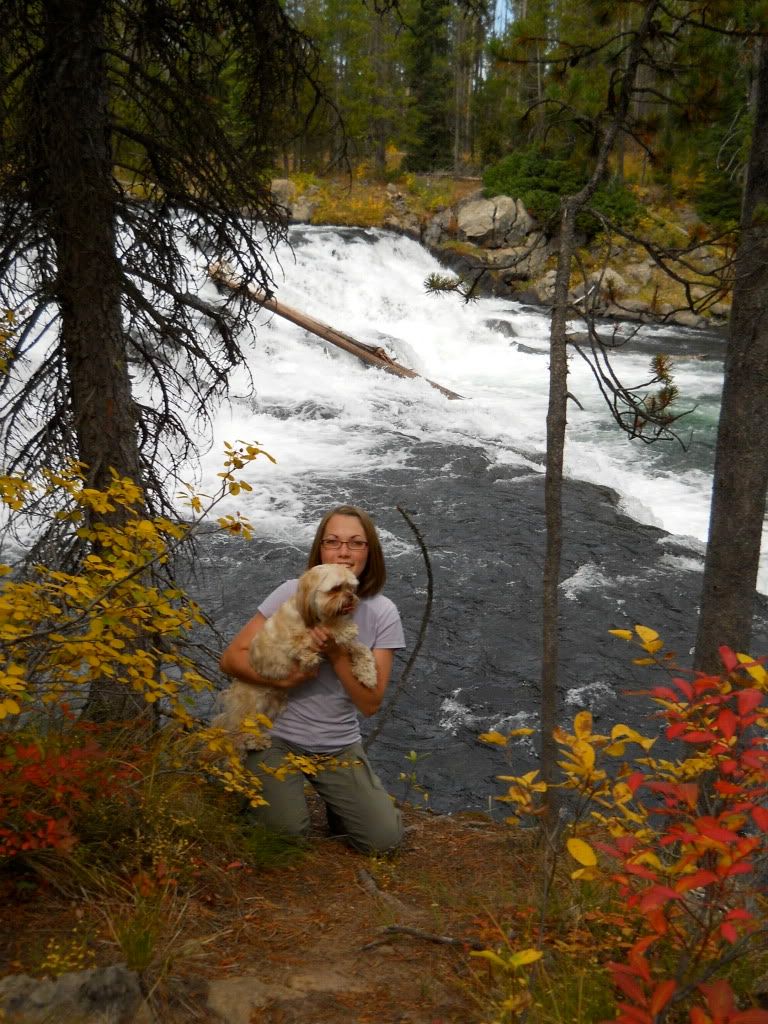 We weren't really planning to hike, but we just couldn't resist the beauty surrounding us so we jumped on a trail that followed the river. After a while the trail took us a little away from the river and I suggested we turn back. Of course Doug being who he is said, 'Lets just go a little bit farther. Then we can have lunch and turn around. I just want to see what's up around that corner.' And boy I'm glad we did just see what was around the corner!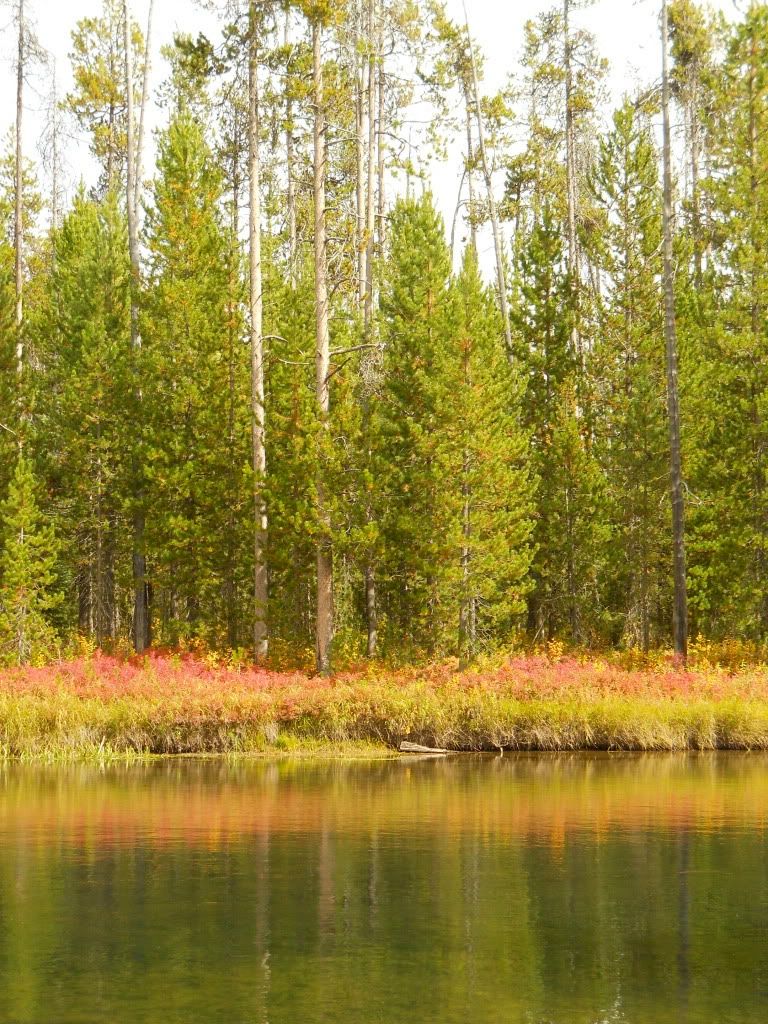 #6- Backpacking from Bechler River Ranger Station to Old Faithful. Ok so I'd never been backpacking before in my life....until harvest vacation this year. Doug got me all excited to hike to Old Faithful so I insisted we still do it, even though the weather might not be amazing the whole time. So we rented some gear from BYUI and bought our freeze dried meals. It didn't really cross my mind how far 30 miles really is, especially when you are carrying a pack!
We did it in 3 days and it was awesome! Yes I was sore when we got done. I hobbled around on sore feet for a few days and had some knots in my shoulders and back. But I would do it again in a heartbeat!!! I loved being out alone with Doug and in a place you could only get to by hiking.
The first day was beautiful! It was sunny and the hiking was easy. We went across these huge meadows. I'm glad it wasn't really wet other wise we would have been hiking in a lot of mud. We had to cross the river 3 times. It was pretty freezing and up to my mid-thighs! Thank goodness we brought our chacos!
Just after the last river ford we found our first camping site. We got our tent set up and dinner made just before the clouds gathered and it started to sprinkle. We tied our food up on the bear pole and snuggled in for the night.
Unfortunately it rained all night long and continued in the morning! So we had to pack up a wet tent and it was quite chilly. We got going and started up the first real climb. We passed waterfall after waterfall! It was beautiful even in the rain. We also passed a lot of thermal areas that were steaming in the cold weather.
When we got up on the ridge passed three rivers junction, it was like we were just up in a cloud! We couldn't really see off the side of the ridge or the mountains surrounding us. It was amazing! It began snowing where we were supposed to camp up at the top of the mountain....so we decided to come down the other side and camp in a lower campground. Luckily that campground wasn't already taken by anyone.
And our last morning we were trudging along (me in front) when around the bend came a BIG buffalo. I gasped and jumped off the trail and Doug didn't know what to think at first. Once he realized it wasn't a bear he was happy! We grabbed a few pictures while he walked past us like we weren't even there. Our one and only wildlife encounter on this trip.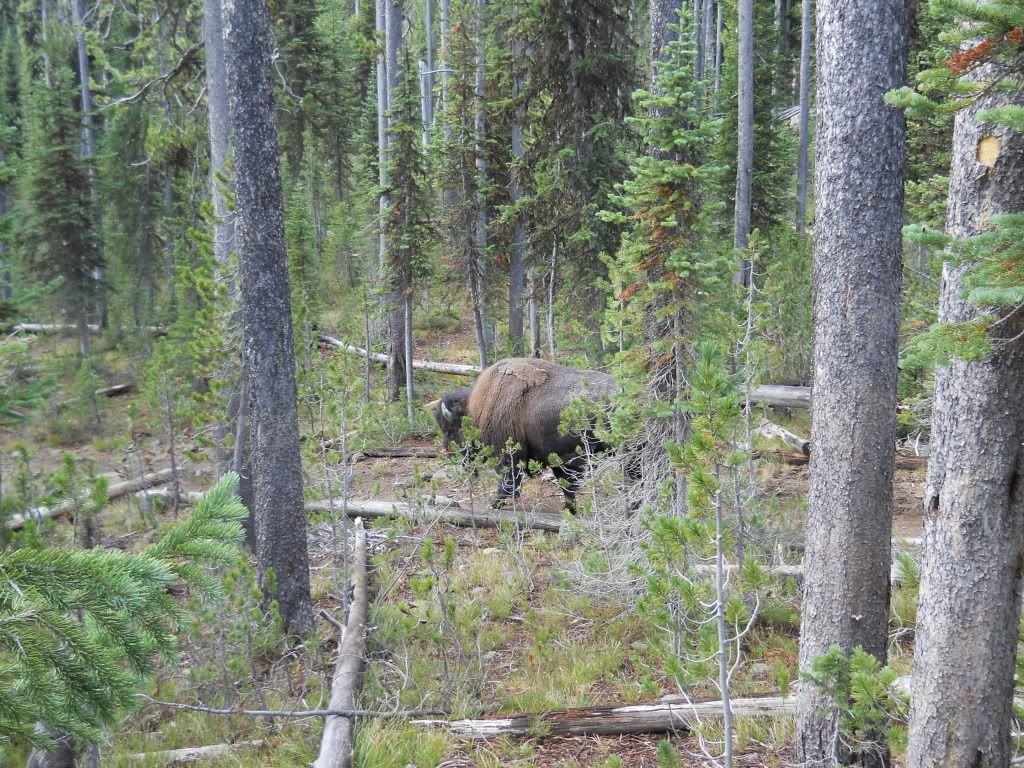 This picture doesn't do him justice!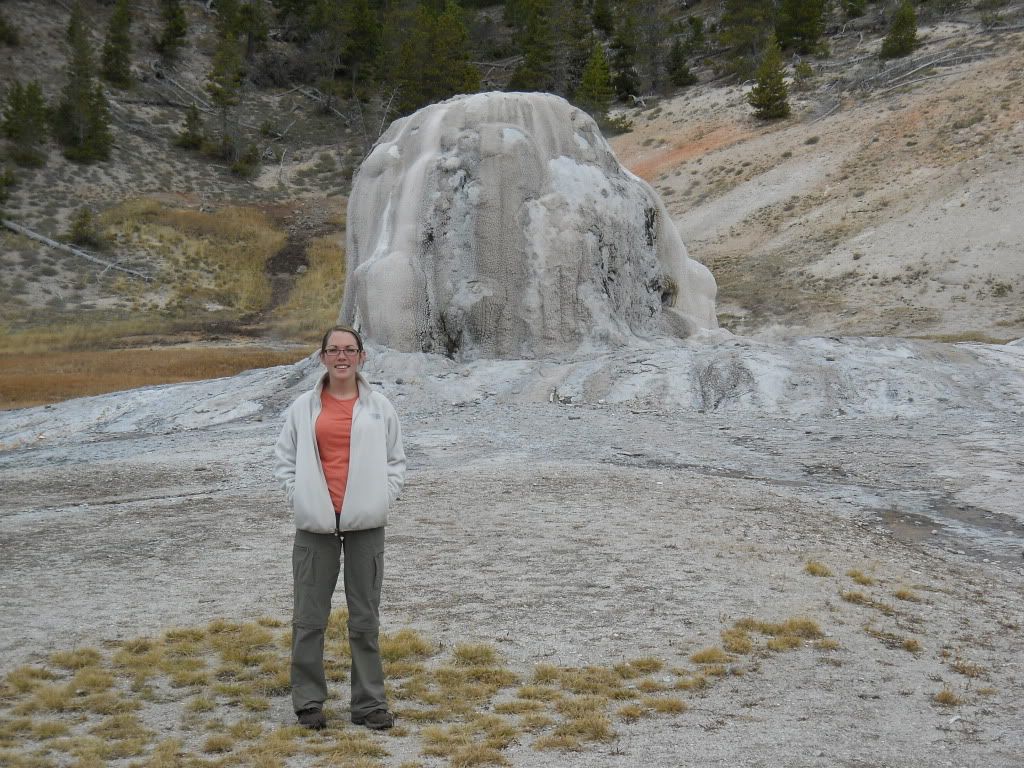 Lone Star Gyser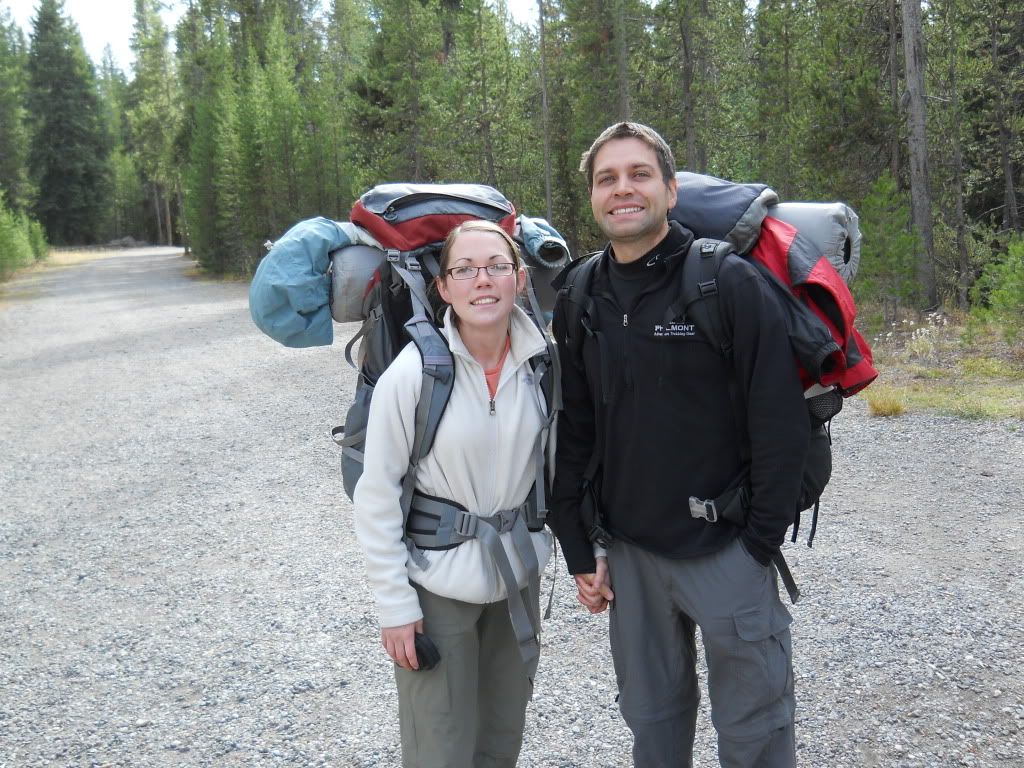 At the end-Yes our smiles look a little strained and I'm standing like my feet are killing me, well because they were!