Warning!!!: very long post with pictures.
Ok so our summer has been super busy from the get-go! School got out for Doug a week early so we finished right before memorial weekend. We were able to go down to Utah to camp with my family on the traditional memorial camping trip. It was a lot of fun! As always we enjoyed great food, good company, and fun games. My brother was able to bring some friends and my sister as well. We had a lot of fun playing card games, bases, and sitting around the camp fire. Brittany made awesome coblers like always!
We brought Burley with us and after about .2 seconds he was the dirtiest dog he's ever been. It was so dusty and he turned back into a brown dog while we were there. Unfortunately I didn't take any pictures (we were missing a memory card for our camera). We got to take him for some fun walks but I think he enjoyed playing with the Brady's Shih Tzus more! I've decided that he is the biggest tease too. He would go steal the other dogs toys and just taunt them with it. Set it down and wait for them to try to get it, then grab it and run away. He definitely doesn't know how to share haha! He had a blast but got tired of being cold at night and wondering why in the heck we weren't going to bed! It was pretty cute when he went up to the tent and started scratching and whining because he was ready to go to sleep.
After camping we got back in the car and drove down to Logandale to stay with my parents for a week. I love being back at home!! Even though its ridiculously hot outside and you start to feel a little cooped up, its just fun to be back in my house. We had fun playing games as always. I killed my mom at poker twice. She was so unlucky that night : ). I don't know how I did it but everytime she thought she had something good I shut her down with something better. I was very lucky. We played the Train game, ripple, and all sorts of other things with friends and family.
We all went to Risa's (sortof) graduation and found out the the sound system in the high school gym very lacking. Listening to muffled speakers for an hour and a half really starts to grate on your nerves. Brittany and I had fun watching Dad hold his hands in praying position the whole night. It didn't help that he looked like he had his hands wrapped and ready to box. He had carpal tunnel surgery on his hands while we were there. He had to hold them above his heart for like a week. I think the worst thing about it for him was what he couldn't bike for about a week! He is a biking machine! He has lost so much weight and loves it!
Doug and I took Burley to the Valley of Fire. It was awesome to see all of the beautiful rocks and petroglyphs. Burley didn't know what to think about the heat! He was excited to get out of the car and go on a walk, but after the first walk he was guzzling water from our water bottle. The second short walk he made it halfway down the trail and when we turned around to go back he started walking like a snail! He was so hot it was funny. Here are all of the pictures we took from visiting the valley of fire.
On the trail to Elephant Rock.
We made it to Elephant Rock! Burley was dying of the heat.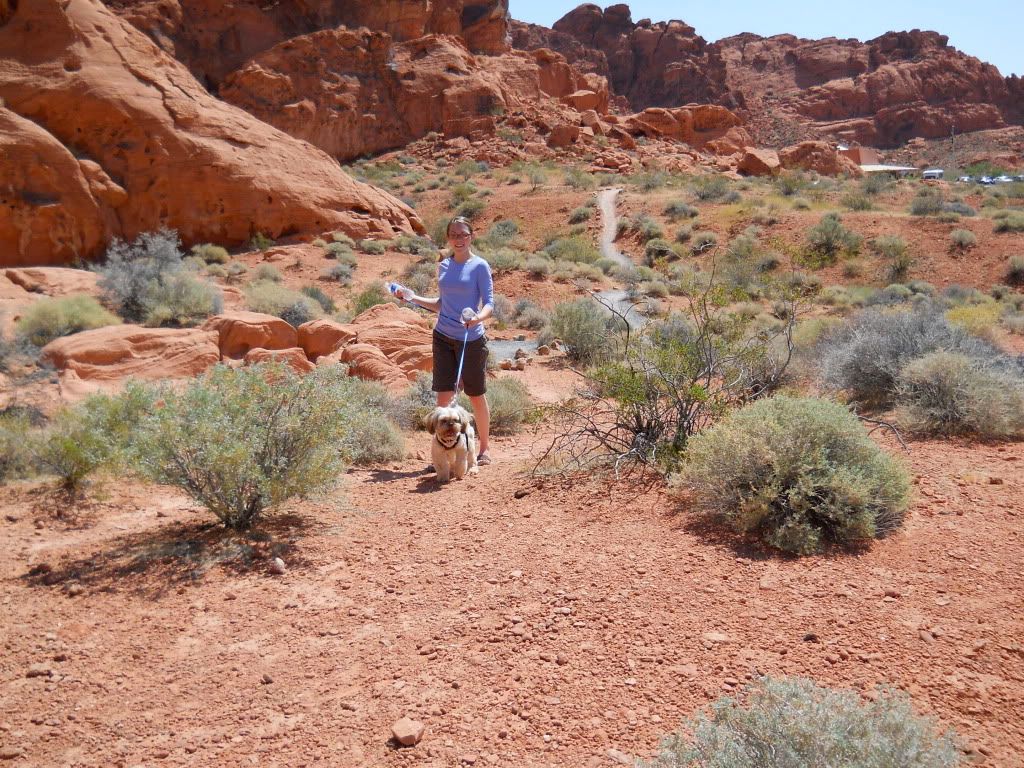 This is the trail to balancing rock. Its the one Burley started walking extra slow on. I wasn't sure he would make it back to the car.
The beginnings of a new archway (maybe:)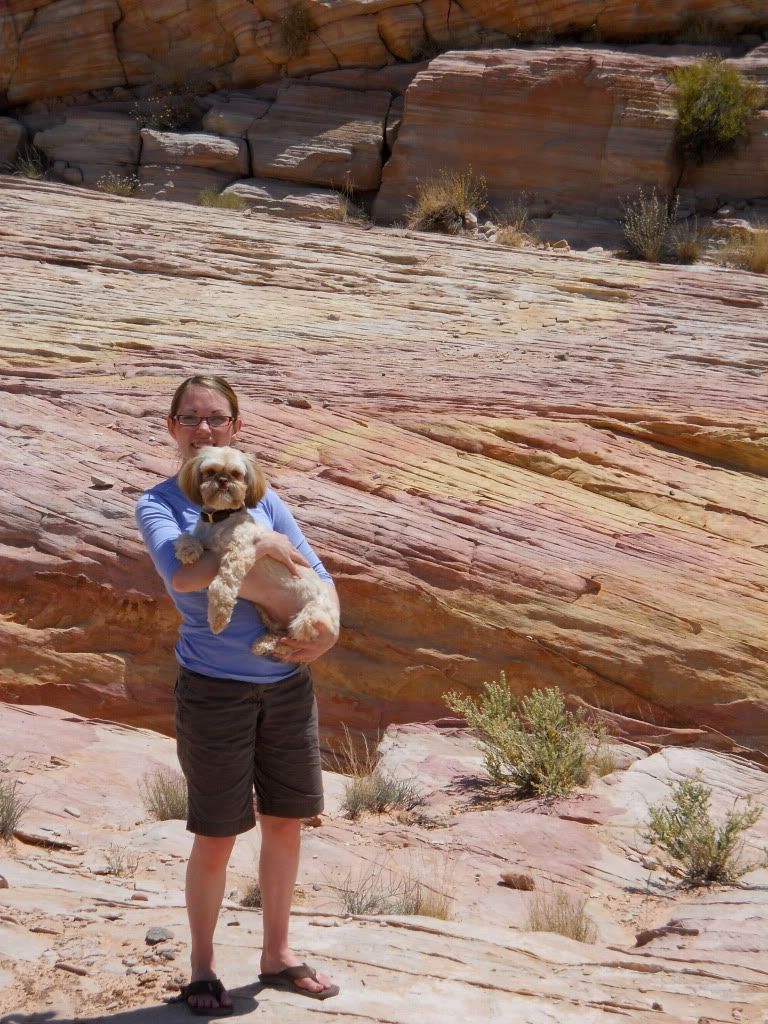 There are a ton of colors in the rocks. These pictures don't do them justice. Burley was posing so well though.
We got out and hiked around a little bit. After a little exploring we found this awesome hole. Burley liked looking up through it rather than looking down from above haha! He got a little nervous at the edge of some ledges.
It also worked out so well that we were able to go to my friend Ashly's wedding. It was such a beautiful day for her. Super busy but wonderful! We enjoyed waiting in the temple and watching her being sealed to such an awesome guy. I'm so proud of her for finding an awesome husband and making all the right choices to be sealed in the temple. The reception was just gorgeous!! I got to catch up with some friends and again eat some great food. Then they were off in a flurry of flower petals and popper confetti! She was a beautiful bride and I'm going to miss her till I can see her again, but she had a blast in the Bahamas and I'm sure I'm the last person on her mind : ).
I'll post another post with my california/disneyland trip on it.