As many of you know I picked up piece quilting this past year. It is something I absolutely LOVE! I'm afraid it might be one of those things my husband is scared of now : ). Quilting isn't necessarily the cheapest, fastest, or easiest hobby I could have picked up. And I started young! Who knew you didn't have to be old and a grandma before quilting was even thought of?!

I often have to answer Doug's question, "Well, why don't you finish this one first?" Yep. I admit I get a little OCD, its from my mother. Once I decide to do one for someone I have to start it, even if I'm already working on several other projects. Needless to say I'm a little head-over-heels when it comes to spending hours with some fabric and my sewing machine.

So here are some pictures of quilts I made in 2009:

This one I made for my brother Bryce and his wife Sonya. It was my wedding gift to them. It was my first real piece quilt and turned out so great!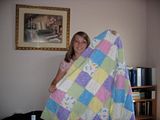 This was a quick rag quilt for a baby shower I went to. So fun, cute, and super fast!

This was one for my sister-in-law Becca and her husband Craig. It was also a wedding gift. It made great memories that won't be forgotten by anyone in the Hansen family. Everyone put a stitch in somewhere!

This one I made for my sister-in-law Leslie. It was a Christmas gift which still needs to be quilted! (anytime Leslie, anytime!)

This one I made for my Mother-in-law Cheryl. It was so beautiful when I saw it online as a quilt block pattern, I just couldn't pass. It was a Christmas gift, which also needs to be quilted : )

I had so much fun last year that I started early this year. I am making my mom a quilt for her new office/guest bedroom. They painted and have all new decor so she needs something new that will match. My camera died and so I don't have pictures of it. I will post when I get some.

I am also working on a crib set for my sister-in-law Rachel. We are so excited for them and I'm absolutely loving making this! I've decided not to post any pictures because I don't want to spoil it. I will post them when the whole thing is finished!