The battle took place last Saturday night, around 10:00 pm. Jessica and Doug were spending the evening visiting with Doug's parents. They enjoyed watching the movie 'UP' and snuggling in a blanket to get warm. They had no idea of what would be coming. As the night wore on they began to get tired and decided it was time to go home. They gathered their belongings and, of course, Burley and headed out into the bitter cold.
They made it successfully to their car and down the street before Jessica realized she had forgotten her cell phone. She reports, "I remember thinking, 'Well we could just get it tomorrow,' but we use my phone as our alarm clock. And we couldn't miss church. So I told Doug we would just have to go back and get it." Which is exactly what they did. They turned around, pulled into the driveway and Jessica ran into the house.
She recovered the cell phone quite easily. After saying 'Goodnight' to Doug's parents once more, she headed back out into the night. The battle began as she slid halfway down the driveway and had to steady herself on the car. After opening the car door she thought she was home free! Thats when things started happening too fast. As she shifted her weight, she went down hard. With no time to catch herself, she went straight for the edge of the car window. She then whacked her eye on it, bounced off and slid the rest of the way down the driveway.
Needless to say, the battle was won and not by Jessica. "It was those darn shoes!" says Jessica. "If I had been wearing any other shoes I would have been fine. But no I had to wear the easy slip ons with the smooth bottoms. The tread on them is almost nonexistent."
The traitor shoes! They helped the snow and ice drop Jessica in an instant.
So the conclusion that we have com to: A rematch. Next time the battle field must be evened out. No more slick shoes. For now Jessica is recovering from a pretty beautiful black eye. It has turned some marvelous colors that we didn't know even existed. Jessica is now able to laugh at herself, "I guess it is kind of a funny story. And I will always remember my first black eye." Stay tuned for reports on the next Battle: Jessica vs. Snow and Ice. Who knows she may come home with another black eye.....or worse.
The day after. Some fairly pretty colors going on. It was very swollen although its kind of hard to tell in the picture.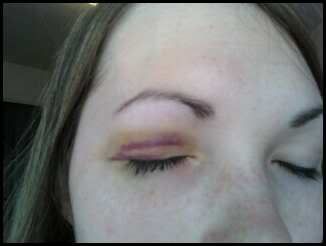 Nearly a week after. The bruises are now fading to green and yellow. Although it looks like the plum purple color is sticking around for another week.