This is the first year that Doug and I have spent Christmas with my family. I was very happy to leave the cold weather behind for almost 2 weeks! Yes snow is great on Christmas but.....you can only handle it for so long. So we got to go down to Logandale and spend it in 50 degree weather.

All of my siblings were home except for Logan, who is on his mission in DC. It was great to see my family! We had fun playing games and just relaxing. My favorite tradition is to have a big Christmas Eve dinner. I just love having everyone around the table and the time we get to spend with each other. Here is our big spread and of course our desert! That is one big apple pie(definitely my favorite)!


I love being in my parents house around Christmas! My Mom's decorations are amazing and Dad always has a huge fire blazing (even if its not that cold outside haha). We bake and cook and cook and bake! It seemed like most of our time was spent in the kitchen but I loved it! One thing my Dad said while we were there was, "You know I would be fine just skipping presents and everything every year. It's the most fun to just have my kids around and spending time with each other." Amen Dad! Thanks! You helped me find the true meaning of Christmas. We enjoyed every minute of just being around our family!


Burley enjoyed presents after he realized he got something fun and new every time we started ripping the paper off of one. After a while though he was more excited to rip the paper balls up that we were throwing into the garbage pile. He got a very cute scarf and new bone from Mom and Dad Hansen, some very delicious treats from Mom and Dad Waite, and a new bed, rope toy, and of course new bones from us. He was one happy dog!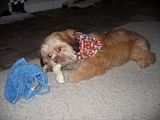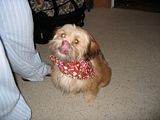 The biggest project we undertook was making a massive gingerbread house. I don't know why we decided to do it, maybe because I just like to be challenged and stressed, or maybe it was the fact that my brother thought we couldn't do it. So we built this monster with the help of many hands. It took so long we didn't even have it finished by the time we left. So I guess we will save it and work on it again sometime who knows : ).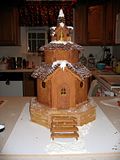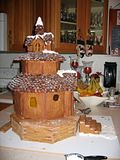 Oh I must give credit to Doug. He was the amazing architect of the roof and without him I think I would have ruined the whole thing. The singles we made out of ginger snaps. We used just the head of a ginger bread man cookie cutter. The two tone color is pretty sweet, if I do say so myself. Funny thing is its because I burnt the first batch that we even got the idea to make the roof look so cool. My sister made the windows look awesome, I again would've ruined them by myself. We melted sugar for them and used tooth picks for the window pane look. It is missing the deck railing, some landscaping work, and snow but at least the house was finished!