Septemeber brought us to my birthday and of course a fantastic birthday present: Burley! The cutest little fuzzball on this planet : )!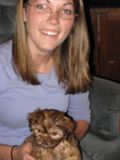 We went to visit Becca & Craig in Twin Falls over Labor Day weekend and stopped to pick him up in Burley (no its not a coincidence that this happens to be our pups name) on the way home. He was so tiny and cute I just can't believe how he has grown up so fast!

He was not too bad to potty train. He actually caught on rather quickly and only had one accident every couple days. It was kind of funny because he never would whine at the door or scratch when he needed to go. Instead he would just come up to you, sit, and stare at you, willing you to read his mind and the fact that he needed to go outside. Needless to say potty training only took about 3 weeks and now he never has a problem with it.

I have really enjoyed teaching him tricks and taking pictures of him. For those of you who know him, you know that these pictures don't do him justice. He is just way too cute.

His first time digging. He loved it! He had such a messy

face afterwards though : ).

Playing outside at Doug's parent's house.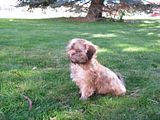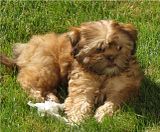 Just being adorable. He climbed up onto this shelf we have in the kitchen and just sat there watching us do whatever. It was too cute not to take a picture.

Ok moving on : ) I will have many more posts about Burley with lots more pictures.

Halloween was a lot of fun! I just love to see little kids dress up and enjoy all of the colors that come with fall! I'm not a fan of the scary stuff. We had fun doing another murder mystery dinner with Doug's family. We even got to have Becca and Craig come do it with us. Here are the great pictures : )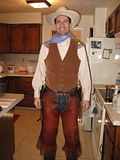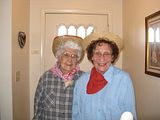 I don't know how we missed Mom & Dad Hansen but they looked fabulous as well. We enjoyed lunch together and a good mystery.