July was a pretty crazy time for us! I graduated with my Associates in Piano Pedagogy, so my parents came up to see me. I also was lucky (or should I say unlucky?) enough to be asked to play a musical selection at convocation. Of course I had to say yes although I really hate the pressure of performing, especially in front of all of the music majors graduating. Here are some pictures from that extremely terrifying and yet still relieving experience.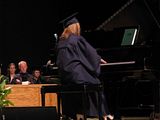 Of course everyone was there to support me from Doug's family and for that I was very grateful.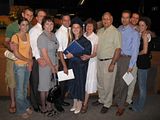 So after that was over my Mom stayed for a week while my Dad went home and worked. We had a reunion up in Idaho so he would return the following week for that and they could both go home together.

My Mom was such a sport! She got thrown in the middle of Becca's wedding, helping me quilt and the Boyer Reunion! It would be so overwhelming and yet she loved every minute of it and made herself at home like she was just part of the family. I was so glad to have her here for a whole week it was wonderful!
As I said she helped me finish the quilt I made for Becca. It was crazy because I put the quilt top together while I was going to school and got the quilt up on the frames right before finals week. Well I didn't get too much quilting done because of finals so we had a whole lot to accomplish in 5 days so we could have it ready to display at the reception.

Luckily we had the help of the whole family! Yep those are the Quilting Hansen Brothers! They were great sports to come and put a few stitches in. Dad Hansen and Bryce did put ONE stitch in and wanted to be sure everyone knew it, I just didn't catch them on camera with the evidence. Needless to say I think they all came away with a new understanding of how hard quilting can be : ). They really were awesome at it and their stitches were so neat and straight!

So then that brings me to the wedding. We were so excited to witness Becca and Craig being sealed! It was a special experience to have see so much family together in the temple to lend their love and support.

Becca was such a beautiful bride and Craig looked rather dashing in his tux : ). We enjoyed a beautiful reception with a wonderful program and of course wonderful food! We are definitely looking forward to having Becca and Craig back from Twin Falls!

Well that wraps up July. Stay tuned for catch-up from August....